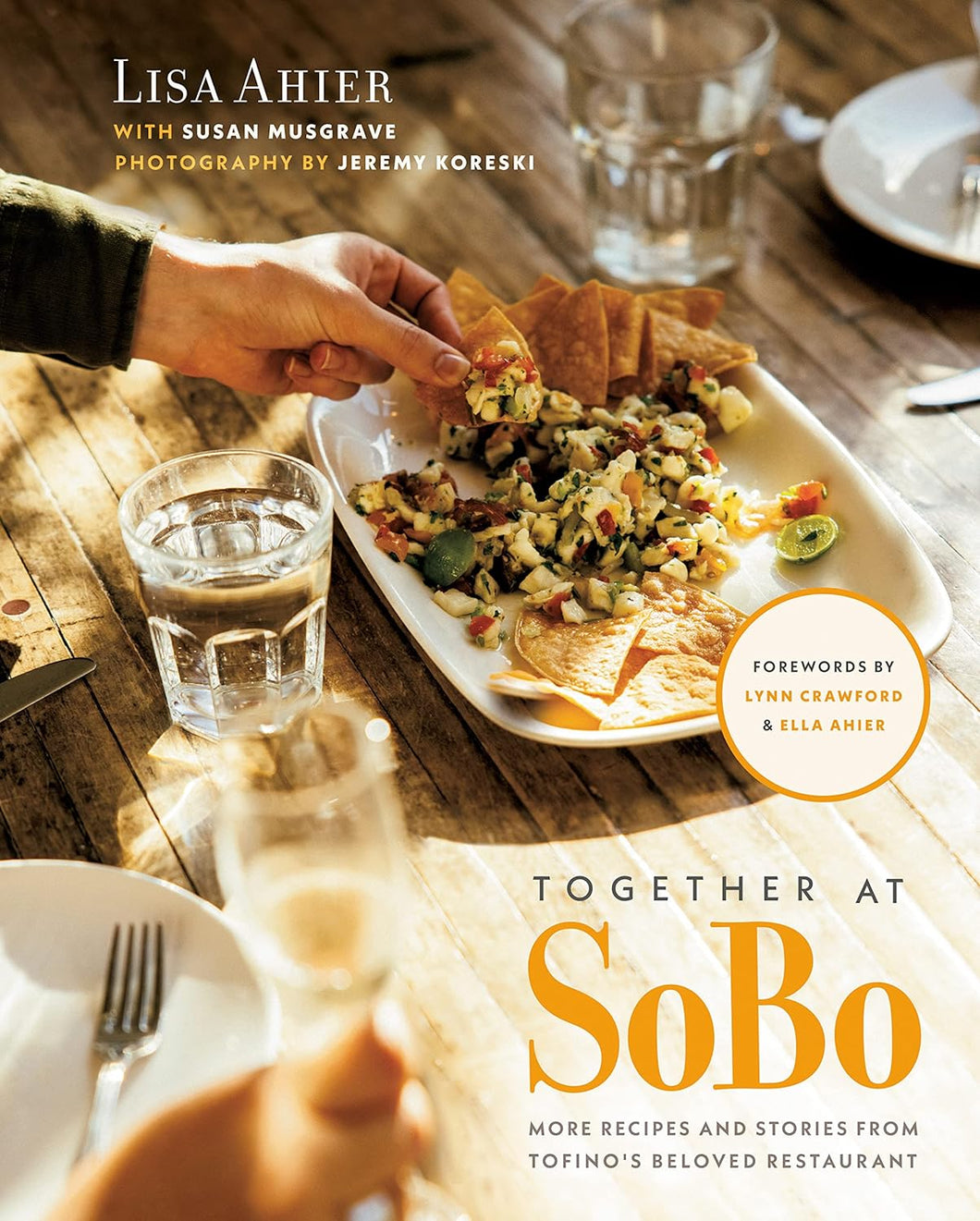 CookBook -Together at SoBo: More Recipes and Stories from Tofino's Beloved Restaurant
Regular price $37.50 CAD Sale
To know Tofino is to know SoBo, the restaurant at the heart of this magnetic West Coast surf town. Since opening as a purple food truck 20 years ago, SoBo (short for "sophisticated bohemian") has been bringing people together with Chef Lisa Ahier's fresh West Coast fare. Year after year, locals and visitors alike return for her killer cooking and the relaxed warmth that can only be found here. Bring home this new slice of SoBo to share with your loved ones.
In
Together at SoBo
, Chef Lisa Ahier shares all-new recipes from her beloved restaurant. Lisa's recipes are love letters to Tofino and its position as the most westerly point of Canada. Drawing from local produce and a wealth of seafood, these are Pacific Northwest recipes enhanced by Lisa's Southern flair.

Local and seasonal:

recipes like the Chanterelle and Corn Chowder and the Nettle, Clam and Shrimp Tagliatelle highlight Tofino's coastal bounty
Classics inspired by Lisa's Southern childhood:

reminisce with her family's Summer Ratatouille and Grilled Peach and Raspberry Melba recipes
Seafood standouts:

embrace the ocean with the Chinook Salmon with Parsnip Puffs and the Halibut Cheeks with Celeriac Cream
Perennial SoBo favorites:

try the beloved Roasted Acorn Squash and Kale Pizza and White Bean and Chicken Chili
And, in true, community-driven SoBo spirit, throughout the book, Lisa also introduces the people around her who have shaped the restaurant into the quintessential destination it is today.
Two decades on from its purple food truck beginnings, SoBo has never lost its namesake "sophisticated bohemian" essence: down-to-earth goodness forged through a connection to the people and place—land and sea—surrounding it.